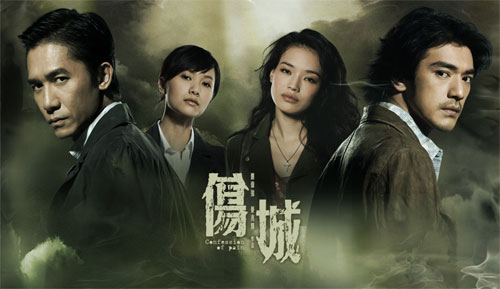 CONFESSION OF PAIN

So, I was really stressed out yesterday after the man at Geek Squad told me that it would cost me nearly half the price of a new laptop to fix my old faithful. As I trudged depressed through the mall, I stumbled upon one of those kiosks that one finds in malls that sells Asian movies. I have seen them in every mall I have been to in the DC/MD/VA area and the rumour is that they are owned by the same guy. Well, after dropping $50.00 for four movies, I am sure the owner is doing very well for him self.
Any ways, walked away with four additions to my Asian film collection and sat down to watch the first of them yesterday. Title: Confesion of Pain. Starring Tony Leung Chiu-Wai, Xu Jinglei, Shu Qi, and Takeshi Kaneshiro (from left to right). Okay, here goes. I selected this movie solely because of Tony Leung. I fell in love with this man after seing Zhang Yimou's Hero
and I have not stopped loving him. I saved and went to see Ang Lee's
Lust Caution
even though I was on my last dollar just because he was in it (post for another day).
So, my grade for the film: C+.
I was not too impressed. I had to put the story together myself to comprehend it and I felt his talent was wasted. He looked good but loving him was not enough to sustain the movie and I was left wishing I could return the DVD for a refund.
Synopsis: Lau (Tony Leung) is a high ranking police detective (think the junior brother of the CIA, china style) and his friend Bong (Takeshi) works on his team. Lau's father inlaw is murdered and horribly too for what is initially believed to be a robbery gone bad carried out by junkies who were found dead. Lau's wife Wei (Xu Jinglei) believes is being stalked and by her father's real killer, which would mean that the case is much deeper than what the police and her husband says it is. She solicits the help of Bong to crack the case as Bong has left the force and is now battling alcoholism after his girlfriend commits suicide over her lover whom she is pregnant for. You know from the beginning who really commited the crime, what we don't know is why.
At the end, all is revealed and the killers exit is well done.
The movies's strong moments were very good and its weak moments were very weak. See it..... when it comes out on cable.